Kemmner does not have its own shop, but sells its watches on ebay-Here the link: http://ebay.to/2k28WaR
Same two octopus chrono
With great pleasure I have ordered in Mr. Kemmner the latest Octopus chrono in two variants: once with a white pointer and completely red Totalisatorenzeigern and once in the standard version.
Here first the technical data of the Kemmner Octopus chrono:
Stainless steel housing 316 L, brushed, diameter without crown = 45 mm, height = 17.4 mm, total length = 53.2 mm, screwed-in clutch crown with logo = 8mm, 2 screwed round pushers, screwed 3.8 mm thick bottom with 2 Viton seals and with "octopus" and engraving, as well as Consecutive number, one-sided left rotatable Topring with 120ER latch and aluminium liner with Superluminova C1 white, magnetic field shielding by soft iron cage, automatic helium valve at 9 o'clock, 4 mm thick sapphire crystal on both sides, waterproof up to 500 meters , weight with volume approx. 258 grams.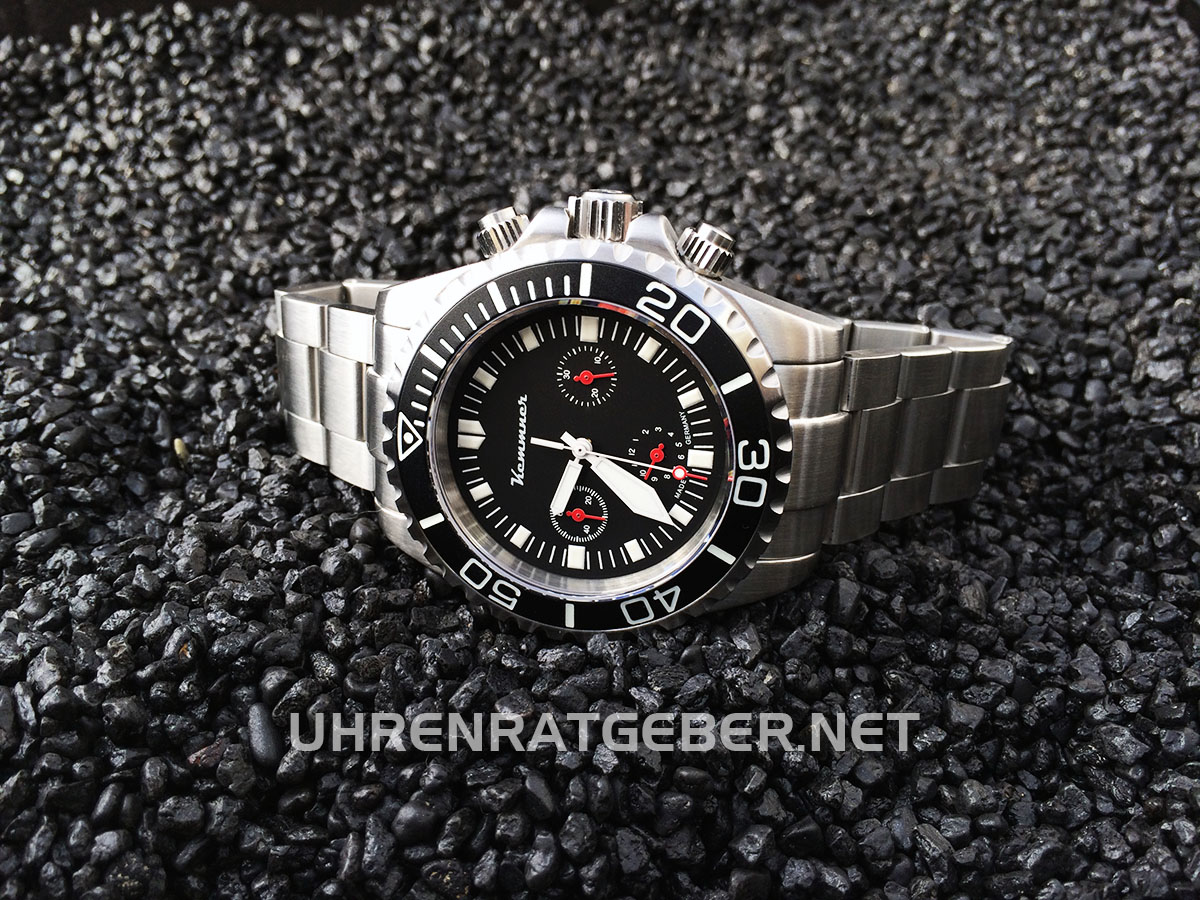 A dream watch alternative to Kemmner? Look at this watch: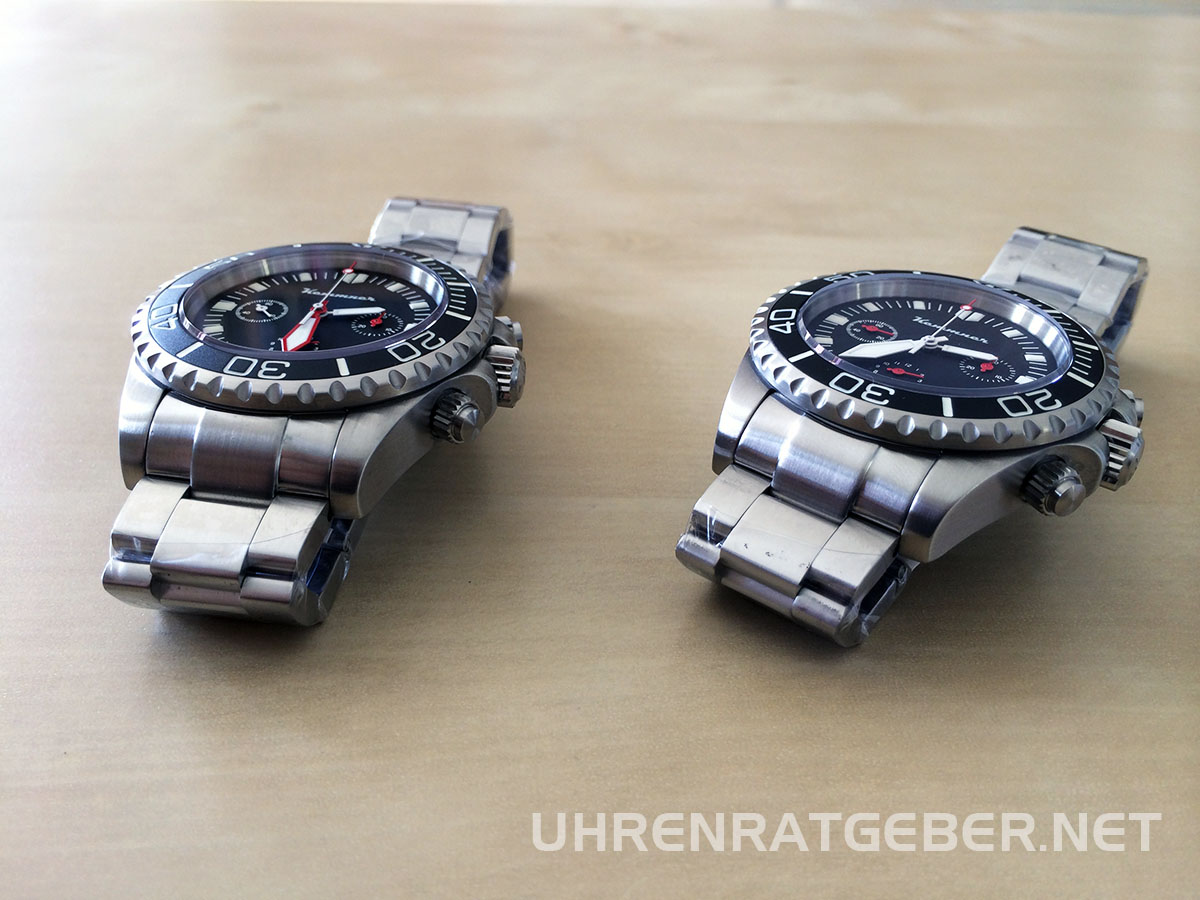 The dial is Matt Black, the hour markers are thick with Superluminova C1 white printed and strong after luminous, the pointers are filled with SL C1 white. The small pointer of the permanent second is white, the small minute chrono Pointer and the small 12 hour hand are red.
The watch is powered by a hand winding TY2902 Grade I from Seagull, 31.3 x 6.25 mm, 22 bricks, 21,600 A/h and approx. 42 hours remaining. The work is the replica of the earlier Venus 175 and is made with the original tools.
Adjusted 22 mm stainless steel strip with screwed (also half) sections for easy and precise trimming of the belt, a fine adjustment can be made at the safety folding clasp. The clasp has a diver extension and an engraved Kemmner logo.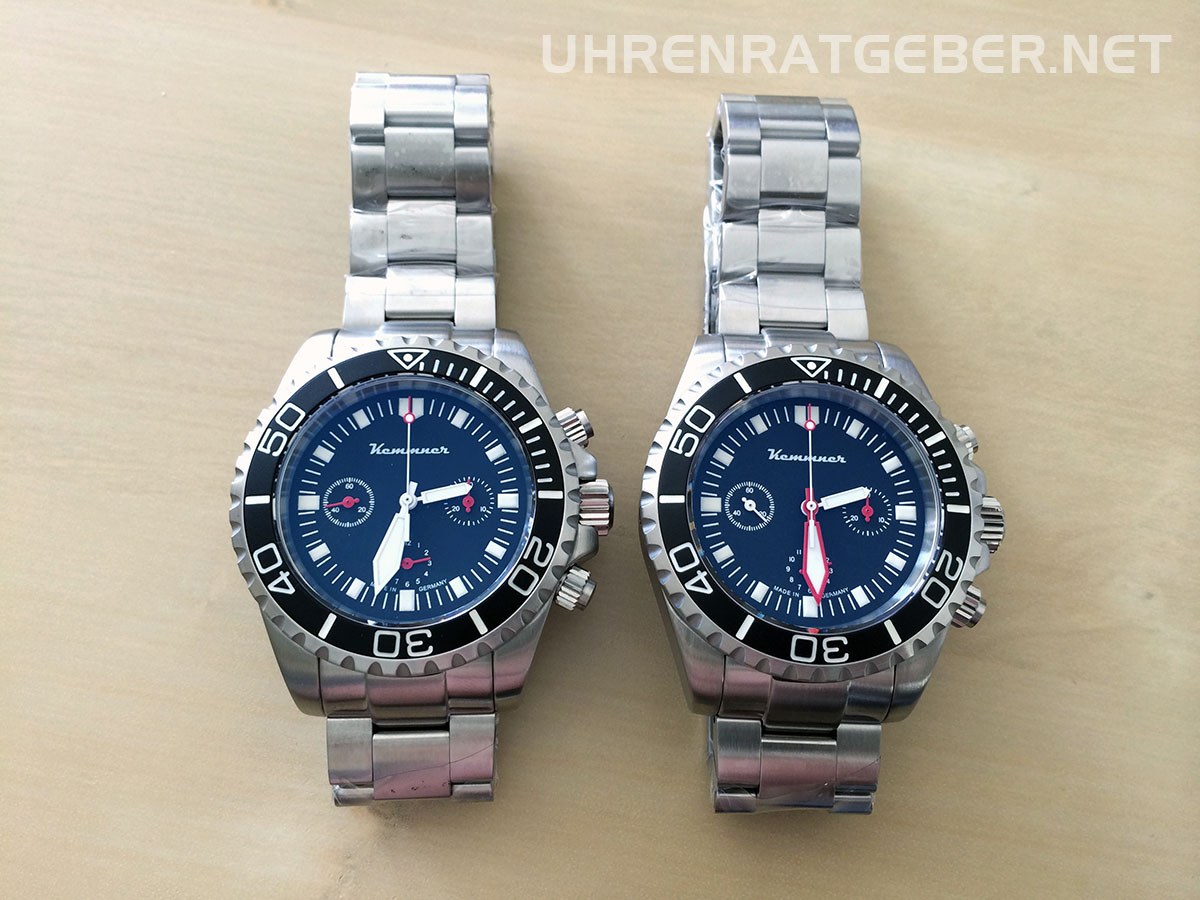 Finally arrived!
At last the package from bad Wildbad arrived. The Kemmner Octopus Chrono is delivered in a beautiful Ledercase (PU) with Kemmner logo. As a free addition there is a black leather bracelet with white stitching, as well as two wrenches and a spring bar cutlery. Exemplary!
At the massive chrono, a wow effect is instantly set when you hold it in your hand and look at it. Absolutely high quality and cleanly processed. The Kemmner Octopus chronograph really does not give any cause for criticism. No sharp knew, gripping crowns – only a slightly more difficult diving ring would be criticized at the highest level. But who actually uses the Kemmner for diving, a firm, not easy-to-adjust ring will be much better than the unfortunately often too easy-to-use rings of other clocks.
The in make forums in the critique, because of the opinion, to small totalizers I find exactly fitting. For sure, the readability is somewhat more difficult for some eyeglass wearers but purely visually I find exactly this small size extremely beautiful and a clear unique selling point of the Kemmner octopus.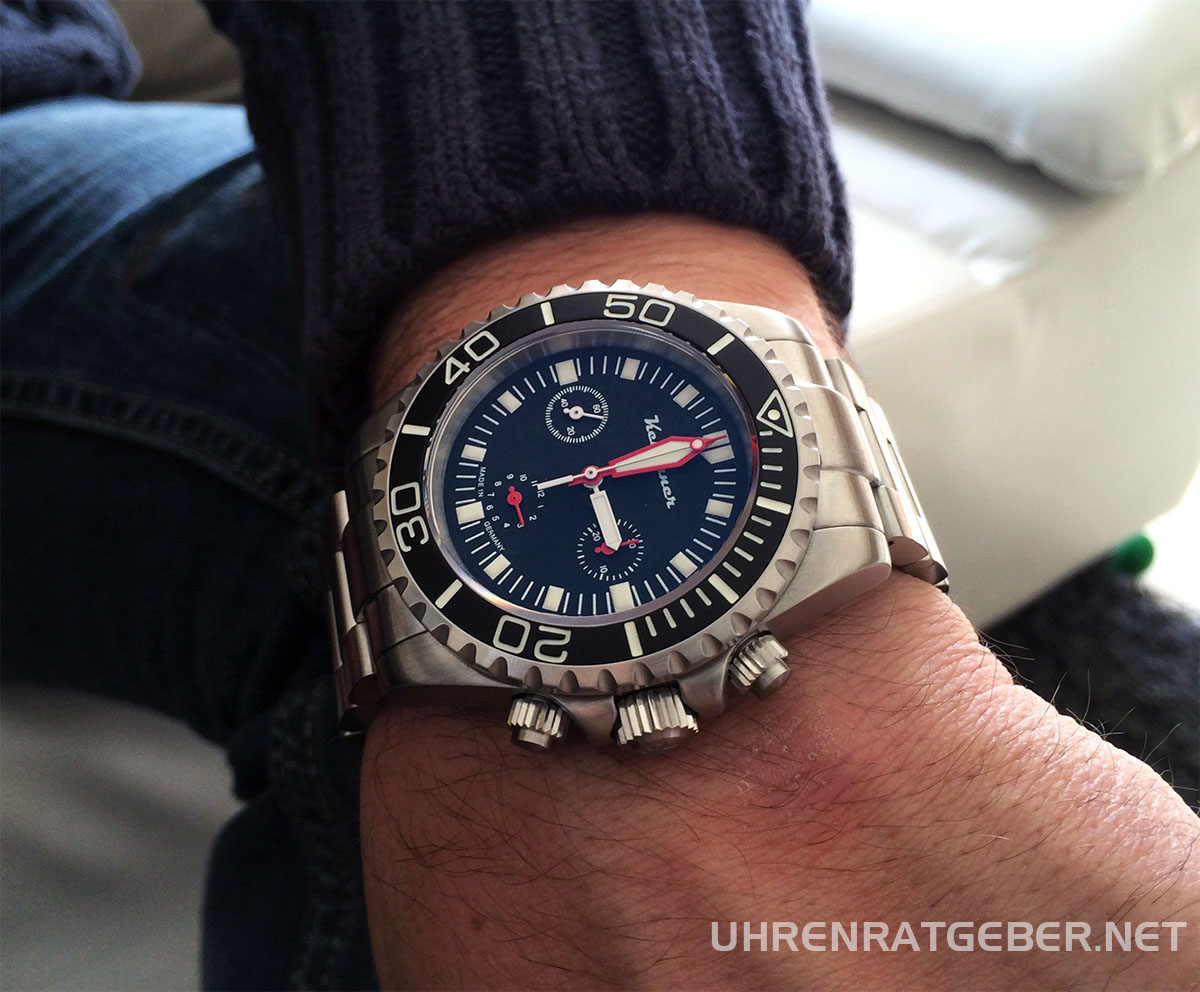 Just raise it, please!
In contrast to the prim octopus, a seagull hand-wound is used in the octopus chronograph. Actually, I'm not a fan of seagull works because you rarely get to the premium variants. Often you will find only inferior works in cheap china watches (see Watch Guide 2014). But there are also these premium works, and Mr. Kemmner, I blindly trust that even one of them has been used. The work is a replica of the Venus 175 and is made with the original tools. The Venus 175 was used for example in previous Breitling Navitimer! Once raised, the plant remains in motion for 42 hours. However, it is advisable to raise the work daily to maintain a constant tension.
Obvious!
It is simply beautiful how much the Superluminova glows and lasts the entire night almost without loss. A luxury that you can often find in vain even with luxury watches. An excellent readability in the dark can be confirmed here as expected.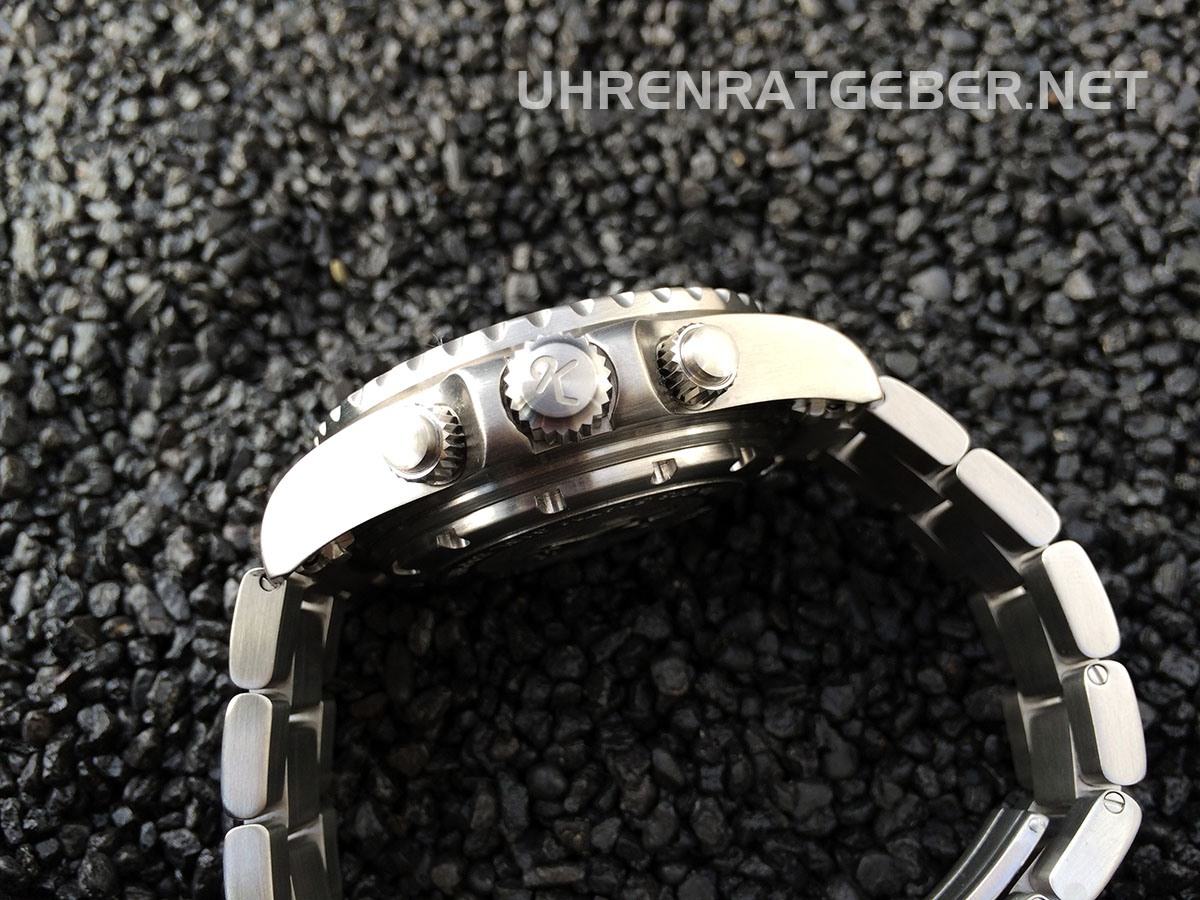 Edition 100 Pieces
Currently only 100 pieces of octopus chrono have been produced. Each copy has a sequential number on the floor. So there will soon be a lack of these beautiful clocks again and the price will probably, as with the first octopus watches, quickly pushed up.
Currently the sales price is €580 plus shipping